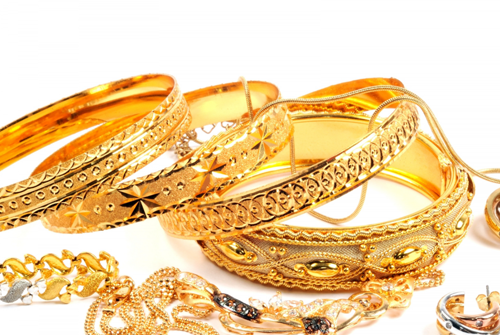 Now is the right time to sell your gold. The price of gold is the highest it's been in almost a decade. The instability brought forth by the COVID-19 pandemic and economic turmoil is making the gold reserve much more appealing.
At the time of writing, the price of gold is $1,848.16 per ounce. Depending on the pandemic's outcome during the winter season -- including what the U.S. government decides to do in terms of stimulus packages -- gold could see further rises or downfalls.
Therefore, if you have gold that you've been saving and need cash, consider getting cash for gold now.
Where to sell gold
Selling gold is quick and straightforward. Possible places to sell gold include:
Pawnshops

Jewelers

Gold exchanges

Online gold buyer
While it may be tempting to hop in your car and travel to the nearest pawnshop and get cash for gold same-day, you're actually cheating yourself out of money by doing this. Don't rely on the convenience of local pawnshops and jewelers.
For one, local brick-and-mortar establishments usually have to pay for the leases on their shops. This means they will often pay a fraction of what your gold worth, ranging from 25-50% of gold value.
Moreover, pawnshops and jewelers can throw around arbitrary prices to get you to undersell. They have a larger incentive to buy low and sell high.
Instead, sell to an online gold buyer such as Gold to Cash.
Sell Gold Online
Selling gold online is a privilege afforded to those living in the digital age. There are several reasons why choosing an online gold buyer is advantageous:
Most Money For Your Gold

Sell From Home

Highly Reviewed Buyers

Fast Turnaround
Due to the competitive nature of the internet, online gold buyers typically have the best rates. There are hundreds of online gold buyers to choose from.
Another advantage of selling gold online is the ability to find reputable buyers that you can trust. Gold to Cash is a great place to sell your gold. Highly trusted and reputable, offering the highest payouts for gold jewelry and precious metals bullion.
Furthermore, with the internet, you can sell gold from the comfort of your own home. As an example, the process of selling gold online through Gold to Cash is as follows:
Complete a short form on their website

Package the gold items in the shipping kit sent to you

Accept the appraisal offer and receive cash within 24 hours through Paypal, CashApp, or direct deposit
The bottom line
Throughout history, gold has been the go-to reserve asset for when times get rough. Right now, the world is going through crises that are testing the ability to handle them. That is why the price of gold is high and it's the right time to sell gold.
Whether you have precious metals bullion, ingots, coins, or jewelry, consider getting cash for gold now. Use that cash to pay off debt or fund a different investment.
When deciding where to sell gold, consider an online gold buyer. Don't settle for the convenience of same-day but low cash offers at local jewelers, pawnshops, or gold exchanges. Selling gold online, and specifically to GoldtoCash.us is the safest, simplest, and most cost-effective way to receive cash for gold.