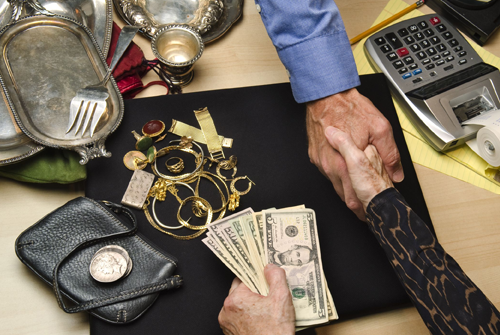 Local listings and online search is flooded with gold buyers. They all claim how great and reputable they are, but are they? When dealing with gold and finances, it is better to be skeptical and go the extra mile to make sure you found the best gold buyer. We believe that selling gold online is a better option overall. If you take your gold to a local "near me" store, you will most likely get a lower offer. These shops have a ton of overhead expenses that they want to compensate with a low ball offer. It's not unusual that they will make an offer in the range of 25-35% of gold market value. Most online gold buyers pay more and a few pay close to the market price. Next time you want to sell your gold or any other precious metal, make sure you know why you're getting paid this amount. For example, when dealing with Gold to Cash, you know that the offer you will get is based on the metal's current market price, the item's weight, purity, and the total value of all items. Also, each offer comes with a detailed appraisal report, so you know exactly why you're getting paid this much.
Gold to Cash is a legit gold buyer that is offering the highest payouts, but you may receive a higher offer from someone else in some instances. In this case, it is nice to have a price match guarantee feature available. All you need to do is provide an offer statement from that buyer and GTC will match it. No need to send your items back and forth and lose time; you're getting paid the most- guaranteed.
You may not feel confident sending out valuables to someone you have not met and can't visit physically, but knowing that your gold is fully insured may make it easier and give you peace of mind. All shipping labels provided by Gold to Cash are free and fully insured for up to $1,000. If you think that your items are worth more, you can request higher insurance coverage. This feature is very important and you shouldn't send your gold jewelry or bullion without insurance.
Another vital factor to look at when dealing with online gold buyers is payment. With a wide range of payment options, you shouldn't wait long to receive money for your gold jewelry or bullion. Gold to Cash offers four different payment methods and customers get paid within 24 hours of accepting your offer. The most traditional way to get paid is a company check, and it will take anywhere from 3-5 business days to arrive. ACH is another option that you can choose and get paid in 1-2 business days. It is very swift and one of the widely used payment methods. The other two payment methods are instant and super convenient. Most people know PayPal and use it a lot. You can get your payment instantly, but small PayPal fees may apply. There is no charge to use that method at GTC, but PP may charge a fee to use these funds. The cash app is another instant payment method but is less known. That one is completely free and very convenient.
The takeaway: If you ever need to sell gold jewelry or precious metals bullion, make sure the gold buyer has all the characteristics mentioned above. At Gold to Cash we pay the highest price we can and send out payments within 24 hours of accepting our offer. The whole process is entirely free for you and there is no obligation to sell if you change your mind for some reason. If you have any questions, we will always be happy to assist and make the process as hassle-free as possible.