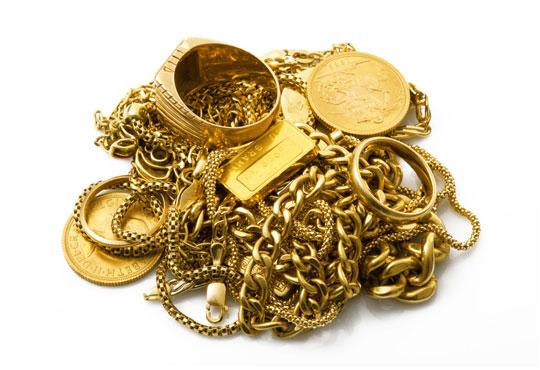 Sell Your Broken Gold Jewelry For Cash
If your favorite piece of jewelry is broken or damaged, you can fix it at a jeweler shop or convert it to cash. If you are not looking to spend more money on it and are thinking in selling it, you've come to the right place. Gold To Cash is the place to get the best offer for your old and broken gold jewelry.
People often pay jewelers or goldsmiths to repair their gold items if they have a lot of sentimental value. These include family valuables that have been passed down from generation to generation. In that case, you might want to hold it to continue the family tradition or if there is an urgent financial need. If you're a collector, and your item has a numismatic value, you might want to hang onto a piece for some time to see if its value increases over the years. However, if that's just another gold jewelry piece that got broken, it might be a good idea to sell that broken gold jewelry and get cash for it.
Whatever your decision may be, selling old gold is the best way to make money in the shortest amount of time. Selling broken gold to Gold to Cash is an easy process and has only a few simple steps that you need to follow. Once you've completed the steps, you can easily walk away with cash. To sell old and broken gold jewelry, follow this quick guide to help you sell broken gold at the best price.
How to Sell Your Broken Jewelry
Many places buy broken gold or jewelry; however, most pawn shops and local jewelers will offer only a fraction of the real gold worth. To get the most money for your broken or unused gold- sell it to GoldtoCash.us by following this simple process.
Request a Free Appraisal Kit by completing a short form on our website.
Pack and Ship Your Valuables via a prepaid FedEx shipping label provided by us.
Accept Our Offer and Get Paid within 24 hours of offer acceptance via direct transfer, check, PayPal, or CashApp.
When you sell to goldtocash.us you are not required to provide a certificate of authenticity for your gold jewelry. Our trained team of appraisers will appraise your broken gold jewelry and will be able to tell how much your gold is worth.
If your item has gemstones in it, we can still buy it. Every gold buyer has its method of dealing with gold items that have gems in them. We will examine each gemstone for cut, clarity and carat and will get back to you with an offer. If you want to keep your diamond or gemstone, we can remove it and send it back to you, or you can send your gold piece to us without the gem. You can try to sell it to a jeweler that is buying diamonds specifically.
Is Selling Broken Jewelry a Good Idea?
If the item you are considering selling doesn't have any sentimental value, it would be a good idea to sell it and get cash for your broken gold. Now is especially a great time to sell as the gold price is at the 10-year max.
If your gold jewelry piece is broken, it becomes useless. Therefore, it is smart to take advantage of the gold price increase and get cash for your broken gold. If you ever considered selling such gold, now is the time.
Fixing broken gold is very costly, as working with precious metals is very hard and time-consuming. Most likely, a simple repair will not return your piece to its original condition. In many cases, jewelry masters will melt it and make a similar-looking jewelry piece. In that case, it can become costly and in the end, it might be better to buy a new jewelry piece.
The Takeaway
If you have broken gold, you can spend more money to repair it or get cash for your broken gold. If you don't want to invest more money into your broken gold jewelry, Gold To Cash is the place where you can get the highest payout in the shortest time. All you have to do is fill out our form, which takes less than a minute and we'll get you all you need to get cash for your broken gold. We offer the highest payouts for your jewelry, regardless of the condition.