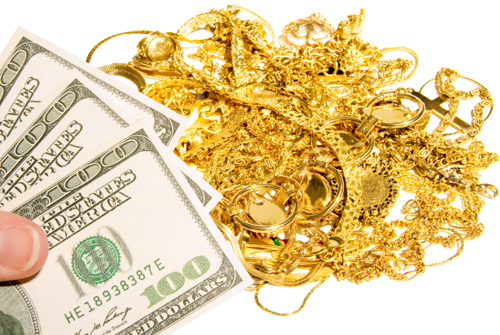 WE BUY GOLD FOR CASH!
No one can give you a better payout than an online gold buyer! Can you trust the people at the pawnshop to understand the gold market and make fair appraisals? Can you trust them to give you the best offer when selling your gold jewelry for cash? At Gold to Cash, we guarantee that our precious metals experts will appraise your gold jewelry and offer you the highest payout so you can sell right from the comfort of your home.
We understand that many people hesitate to sell gold online because of all the gold scams that happen regularly. To make it easier on you and increase your confidence- offer a price match guarantee! Also, we offer free and insured FedEx shipping. We guarantee the highest payouts. And we promise to make a payment within 24 hours of offer approval.
We buy all types of gold, silver and platinum, including:
Broken Jewelry

Bracelets

Chains/Necklaces

Rings

Pins

Earrings

Scrap Gold

Gold and Silver Coins

Precious Metals Bullion

Watches

Dental Gold
Why selling gold online is a good idea
Selling gold is the easiest and quickest way to get cash and a great alternative to loans. In troubling financial times, an easy way to get extra funds is by selling old, broken or unused gold jewelry or coins sitting around in your safe and collecting dust. We have a skilled team of professionals who have years of experience in the gold buying industry. We can promise to give you the best price for your gold or silver items in the easiest and hassle-free way.
Sell your gold not only to fund a tough financial situation but to get extra cash for old inherited gold. If you have a gold or silver item lying around the house and not being used, sell it for cash. You can get cash for old gold from us without visiting a pawnshop or local gold shop. Just fill out the short form to start a 3 step process of selling your gold. Whatever your reason for selling the gold, we can offer you the best price for your items and 100% satisfaction.
Get the best offer at gold to cash
Everyone wants to get top dollar for their gold items but it's rare to get an offer that's really worth the price of your item. This is where we come in – giving the most cash for your gold item(s) is our priority. We deal in old, broken, used and unused gold. At Gold To Cash we pride ourselves in offering you the highest payouts for your precious metals, including gold and silver.
How you can get the most cash for your gold?
Most stores with a physical location will deduct a portion of the value of your gold for retail overhead costs, paying employees, and other expenses that go into running a storefront business. We're different in this respect: goldtocash.us doesn't have a physical location like most pawn shops so we're able to give you the highest offer. If you can get a better offer from any of our competitors, we'll be happy to match it. So, get cash for your gold today!