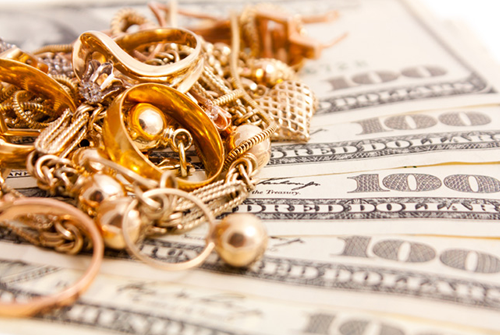 We live in the internet age and everything tends to move online. Even the most traditional concept of selling gold or other precious metals is no exception. People use online services for various reasons and we want to focus on five reasons why you should consider selling your gold to the gold buyer online.
1. The convenience of selling from home
One of the most common reasons why people sell gold jewelry or bullion online is convenience. With a busy modern lifestyle, this is especially important and luckily, you can do that online. There is no more need to look for a local pawn shop or jewelry buyer to sell your gold. All you have to do is find a reputable online gold buyer and work with them. The process is swift and straight to the point. After requesting an appraisal online, we will send you a prepaid shipping label and other instructions to complete the sale. Having a shipping label on hand, you can pack your items, take your package to FedEx and ship it to us. For your convenience, you can request FedEx to come to your door and pick up the package. As soon as we receive your items, we will appraise it and send you an offer. You can receive money for your valuables within a day after we get your approval.
2. It's safer to sell online
In many areas, it's not even safe to walk around with gold and look for a place to sell. Even though gold is very compact and you can hide it, it would be harder to do the same with silver bullion. Even if you can discreetly carry your valuables, you never know who the people are near pawn shops and their intentions. It's much safer to deal with an online gold buyer without the need to visit sketchy places. When you sell gold jewelry or bullion to Gold to Cash, your items are safe and insured in every step of the process. Your items are automatically insured up to $1000 or can be increased if your items are worth more. Also, for more security, all valuables are stored in a world-class vault and guarded by armed personnel. Working with an online gold buyer like Gold to Cash, you don't need to worry about your precious metals' safety.
3. Availability of a gold buyer
If you live in a smaller city or the suburbs, there might not be a legit place to sell your gold. Spending hours of valuable time driving to the nearest jewelry store to find out they are paying just a fraction of what it's worth doesn't sound that great, especially if there is an alternative to sell online. All you need is internet access and several minutes of your time and your gold can be on the way to appraisal. Getting a payment is very simple and available via four options: a check, ACH/wire transfer, and PayPal or Cash app for instant transfers. It's always available and convenient.
4. Most money for your gold
One of the most important factors of the best gold buyer is getting the most money for your gold jewelry or precious metals bullion. With Gold to Cash, you can be confident that you're getting paid the most because our offers are transparent and based on the current market price. You can get up to 95% of the market value for your precious metals bullion and jewelry. Please stay away from the buyers that offer only a quarter or a half of the real value.
5. Quick funding
Getting your payment as soon as possible is as crucial as getting a fair offer. There is no reason to delay payment when the customer approves the offer. We will initiate a payment as soon as you accept our offer so you can get paid the same day. The whole process is risk-free and we take care of all the expenses.
If you need to sell your gold jewelry or bullion give us a try. Gold to Cash is one of the most reputable and highest-paying gold buyers on the market. We value our customers and provide industry-leading services!